Open an account in 3 minutes and receive your debit card in 5 days
Open a business account in a jiffy
Choose ANNA in the Business Banking section of your company application, and ANNA will send you an email and SMS as soon as your company is formed.
How it works
As soon as your company has been formed via Companies House, we will send you an email and SMS to allow you to make your application for a business bank account.
If you have your ID ready, your account can be open within 3 minutes. Your business debit card will arrive within 5 working days after your account is opened.
Then you can
Give co-workers their own debit card and set a spending limit
Set up direct debits for free
Earn 1% cashback when you use your debit card for business expenses
Carry out money transfers and ATM withdrawals for free
Create and send professional looking invoices and chase them when they're overdue
ANNA allows you to create professional looking invoices with your company logo.
We will monitor what's been paid into your account, and chase unpaid invoices with a polite email, so you don't have to. Everything will be kept clean, tidy and up to date for your accountant.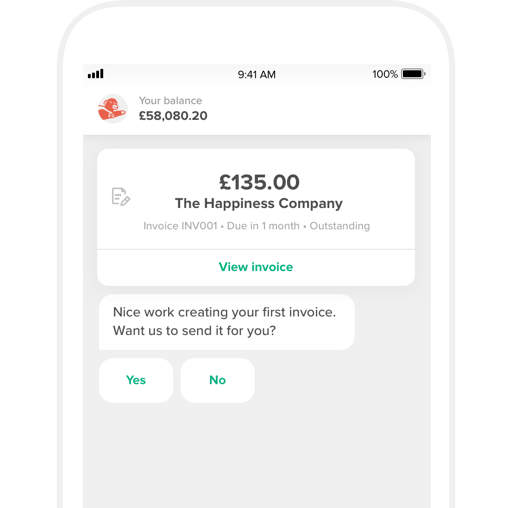 At your service
With our mobile App, you can manage your account 24/7 from any device. Get real time balance information, statements, add payees, send payments and apply for extras. And should you need help, you can either use our extensive 'Help' functionality or send us an email.
If we don't respond within 10 minutes, we'll refund your subscription for that month.
Terms and conditions apply. Absolutely No Nonsense Limited. 'ANNA' is a trademark of Absolutely No Nonsense Limited. Registered Office: Capital Tower, Greyfriars Road, Cardiff, Wales, CF10 3AG. Company Number: 10149389. Mastercard is a registered trademark, and the circles design is a trademark of Mastercard International Incorporated. The card is issued by Wirecard Card Solutions Ltd ("WDCS") pursuant to licence by Mastercard International Incorporated. WDCS is authorised by the Financial Conduct Authority to conduct electronic money service activities under the Electronic Money Regulations 2011 (Ref: 900051). Account openings are subject to approval.