Last updated: 19 May 2022
The profit made by a company limited by shares can only be legally removed from the business by its owners if they follow certain procedures. This is because, unlike sole trader businesses, limited companies are separate legal entities. All profit belongs to the business until it is distributed to directors and shareholders as remuneration via the appropriate legal channels.
You can extract all business profits as a director's salary, but it is more tax-efficient to take a smaller salary and make up the rest of your income as dividends. The best way to do this is to take a salary up to your Personal Allowance, which is tax-free. This will also ensure you preserve your right to a state pension and benefits.
A company can issue dividends to its members (each member receiving payments in proportion to the shares held) as often or infrequently as necessary, provided the company has enough retained post-tax profit after all bills, costs, and expenses have been subtracted from turnover.
If there is no profit left in your business bank account after allowing for these liabilities, you cannot issue dividends. If you do, the dividend will be deemed illegal and you could face severe consequences from HMRC. Salaries, however, can continue to be paid even if your company is making a loss because this kind of payment is viewed as an expense.
Step 1: Declaring dividends
There are two types of dividends – interim and final.
In most companies, the company directors must hold a board meeting to officially 'declare' interim dividends. To issue a final dividend, shareholders must grant their approval by passing an ordinary resolution at a general meeting or in writing.
To issue a final dividend, shareholders must grant their approval by passing an ordinary resolution at a general meeting or in writing.
It is beneficial and advisable to print out a copy of the balance sheet and profit and loss account for the period from which the profit will be distributed. This will ensure that payments do not exceed the available profit in the business bank account.
Step 2: Working out dividend payments
If your company has any profit remaining after paying all business taxes, expenses, and liabilities, you are free to distribute this money to shareholders. Dividends should be distributed according to each shareholder's percentage of ownership. This is worked out by the number of shares they own – or otherwise in accordance with the company's articles (such as in relation to called up share capital not paid).
If you own 50% of your company's shares, for example, you and the other shareholder are both entitled to dividends worth 50% of the retained profit. In this scenario, if your company has £2,000 of retained profit, you can both receive net dividends of up to £1,000 each.
Due to the fact that your company will already have paid 19% Corporation Tax on this income, the first £2,000 of dividends is tax-free (based on 2022/23 tax year rates and allowances). Above that amount, you will pay dividend tax. You must report your dividend income and pay any necessary tax on an annual basis via Self Assessment.
Step 3: Issuing dividend vouchers
For each dividend a company issues, a voucher must be created and given to its shareholder. This voucher is sometimes referred to as a 'dividend counterfoil'. It is not a special kind of form, but simply a piece of paper (or an electronic document attached to email) that provides the following important details about the dividend:
Name of company
Date of issue
Name and address of shareholder receiving the dividend
Share class
Amount of the dividend payment
Signature of authorising officer
A typical example of a dividend voucher is as follows: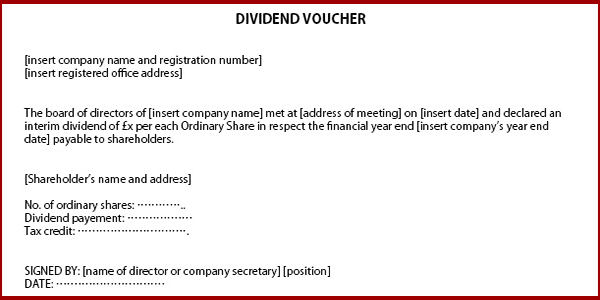 The same format can be used for interim dividends and final dividends – simply alter the text accordingly.
Step 4: Preparing Minutes of Meetings
You must take minutes even if you're the only director and shareholder in your company. All companies are legally required under the Companies Act 2006 to keep copies of minutes with their statutory records for a minimum of 10 years. You may keep these minutes on paper, in some kind of electronic format, or both – whichever is most convenient.
How often can I issue dividends?
You can issue dividends as often as you like (daily, weekly, monthly, bi-monthly, quarterly, bi-annually, or annually) as long as your company has sufficient retained profit to do so. Due to the paperwork required, most accountants will advise you to issue interim dividends on a quarterly basis for easier record keeping and to coincide with VAT payments. That being said, there is nothing to prevent you from issuing them more frequently if you really want to.
On the other hand, you may want to issue dividends annually at the end of each tax year, or sporadically throughout the year, when your company profits reach a certain level. It's entirely up to you.
Dividends provide an excellent opportunity for effective tax planning. You can delay the distribution of profits until the following tax year, which is beneficial if you want to keep your income within the basic rate of tax, or you plan to work more than one year and take some time off the next.
You may also wish to consider, if possible, splitting ownership of your business with your significant other if they earn significantly less than you. This will allow you to issue dividends to him or her, thus avoiding or paying less higher-rate tax.
Is there a limit to the number of dividends a company can issue?
No, there is no limit to the number of dividends a company can issue throughout the year or at any one time. However, it does depend on the number of shareholders your company has and the amount of retained profit that is available to distribute.
You're only required to issue one dividend per shareholder each time you declare dividends, and you cannot issue them if your company does not have any retained profit to distribute.
It's also worth bearing in mind that the more dividends you issue, the more paperwork you will have to fill out. You'll also need to spend more time on your Self Assessment tax return. Keep it as simple as possible. Ideally, you should speak to an accountant for tailored, expert advice.
How are dividends taxed?
All taxpayers are required to pay tax on dividends above £2,000. The following rates apply for the 2022/23 tax year:
Basic rate taxpayer – 8.75%
Higher rate taxpayer – 33.75%
Additional rate taxpayer – 39.35%
The Income Tax and National Insurance contributions that you will pay on your director's salary are not payable on dividends, but you must include your relevant income in the 'Dividends' section of your Self Assessment tax return each year. This will allow you to work out and report your total earnings for the tax year.
If your total annual income (from all sources, including dividends) for the 2022/23 tax year is £12,570 or less, you will not pay any dividend tax because your tax-free Personal Allowance of £12,570 will apply.
Do I need to issue dividends?
If you are the only shareholder in your company, there is no legal requirement for you to issue dividends if you don't want to. You can retain surplus income in the company to further the aims of your business, or you can take your entire income as a director's salary. However, it is not tax-efficient to pay yourself a salary above your tax-free Personal Allowance.
If you're not the only shareholder in the company, you cannot make that decision by yourself. If there is available profit to distribute, the rest of your company's shareholders may want to see a return on their investment. Such matters should be formally discussed and agreed upon.